Posted by Wolf & I Co. on May 06, 2022
As any dog owner knows, the bond between us hoomans and our pups is truly special. We asked these Dog Mum legends to share a little about their dog, why they love dogs and why their dog means so much to them.
Dog Mum: Chantal
Dogs Name: Boston
Breed: German Shorthair Pointer
Age: 4 months
Boston's personality: He's part Tornado and part Velcro
My dogs best skill? Eating
My favourite nickname: Boston
Any challenges you've faced with your dog and how you have overcome it? We picked him up the weekend of the huge Queensland floods a couple of months ago so we spent the first two nights with him in the car unable to get back to the Sunshine Coast lucky for us he was still young and slept most of the time.
The best moment/experience you've had with your dog? The daily cuddles, he's super snuggly.
Why you love dogs? They are a gift to this world, our dogs have been with us through all lifes ups and downs and they are the most beautiful family members anyone could ever ask for.
Dog Mum: Emily
Dogs Name: Alma
Breed: Finnish Lapphund
Age: 2 years old
Alma's Personality: She is a funny, goofy, happy, loveable Lappie who is obsessed with the beach, being outside and running free. She is so sassy and cheeky and loves nothing more than to bark at you to entice you to chase and play with her. When she's not out on an adventure she enjoys stealing your pillow and hogging the whole bed to herself!
My Favourite nickname for Alma is Raccoon, when she arrived home she had a tiny white strip on her head and looked like a miniature raccoon, it has stuck ever since.
Challenges we have faced with Alma: The hardest challenged we faced with Alma was leaving her at home alone when she was very little, she would howl and howl. One time I forgot to close the balcony door and she started howling and I could hear her two blocks down the street which was incredible considering her size! We used to sit outside our front door to wait for her to stop crying before we entered, our neighbour use to invite us in for coffee when she found us sitting outside. As hard as it was I'm so glad we stuck to it though because now she doesn't make a sound and happily sleeps peacefully when we are out :)
The best experience so far with Alma has to be our trip to Kangaroo Island, it was beach after beach, hike after hike of completely dog friendly paradise! We spent five days 4x4ing and exploring every possible inch we could. Alma and I paddle boarded with a pod of 15 dolphins, two of which were babies and it was just an unreal, unforgettable experience!!
Why I love dogs so much: I love there unconditional love, they are always happy to see you, no matter what! Everyday is the best day ever for them and they just live in the moment. I'm fascinated at their ability to communicate with us, to learn so much and so quickly and to read our body language remarkable well. A bond with a dog is extraordinary and so special to have, they are far more than just dogs they become family! Being a dog mum is the best, I don't think I could ever not live without a dog in my life as it would be very boring and lonely without one! They just bring so much happiness love and enrichment into your life!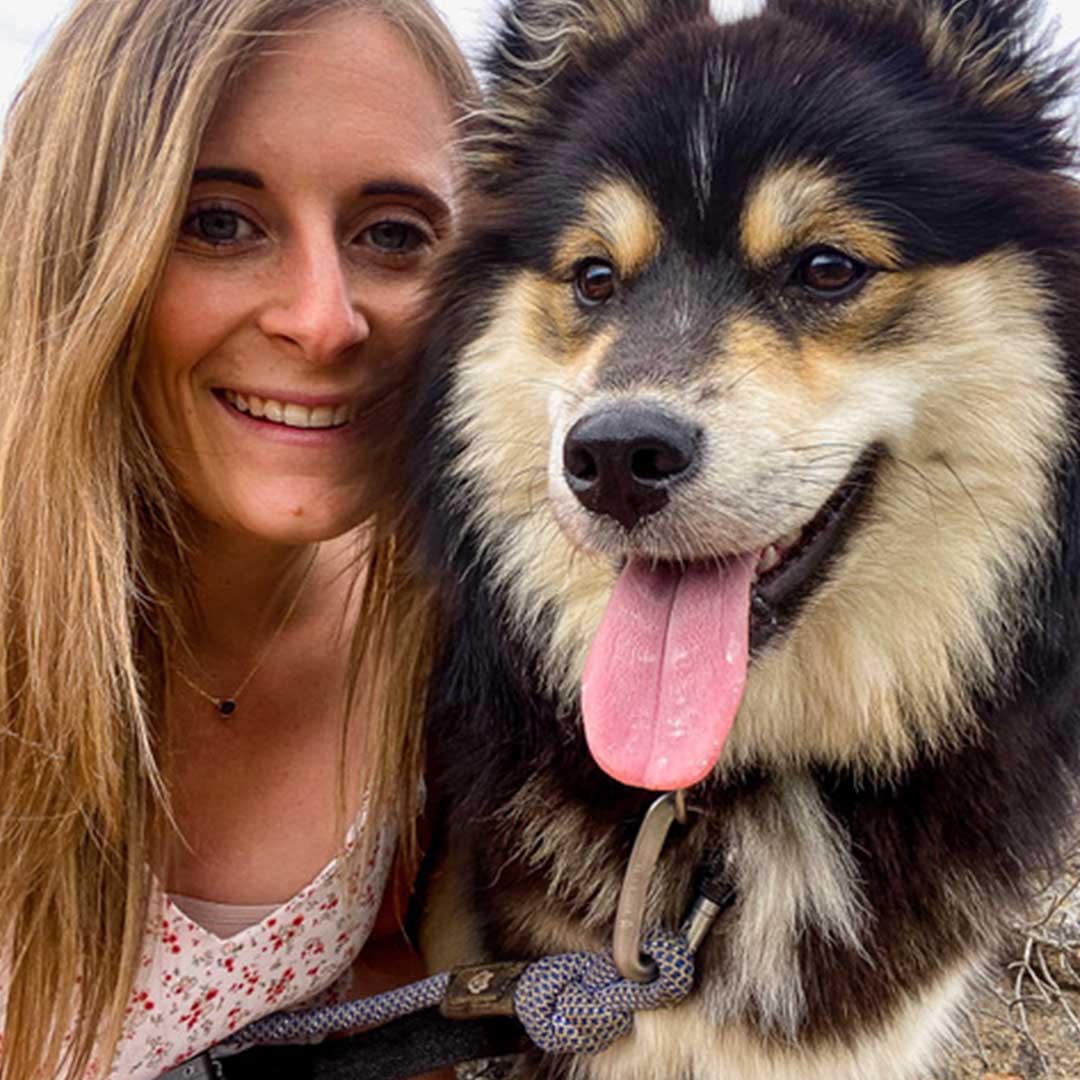 Dog Mum: Sarah
Dogs Name: Evie Charlotte HOlmes (We chose this name as the initials spell Echo - our beautiful 10 yr old Huskador boy who passed away in January.
Breed: Huskador (Siberian Husky x Labrador)
Age: 5+ months
Evie's Personality: Full of life but also very chilled out, cuddly, affectionate, inquisitive, smart, playful.
Best skill: Recall at the beach when she is off lead, and travelling in the car - travelled 1600kms at 9 weeks old when we collected her from NSW and drove her home to SA.
Favourite Nickname: Gremlin
Best moment/experience: First time at the beach, and first time exploring in the forest.
Being a dog mum: Evie is my third. Echo was my first boy, and he loved to run trails when we went mountain biking, loved kayaking, camping and going on all the adventures. We also have Tora, a 7 yr old Malamute x Husky who we rescued 5 years ago. Tora is a beautiful big sister to Evie, teaching her all the right things! I can't wait to take Evie on all the adventures as she grows up. She will be a great trail dog and will love summers spent at our beach.
Why I love dogs: What's not to love! Dogs teach us to enjoy the simple things in life. Life wouldn't be the same without sharing it with a four legged friend, or in our case two!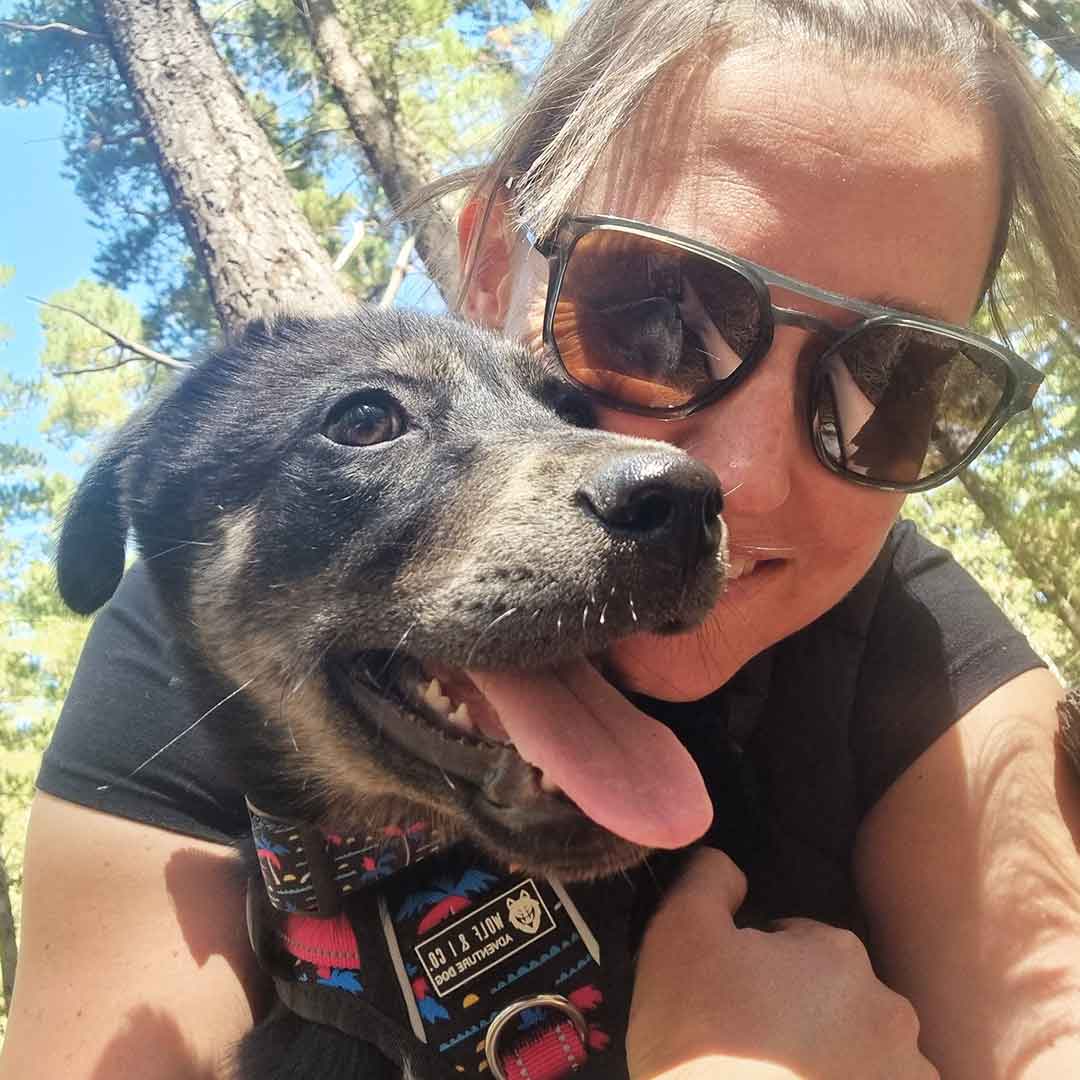 Dog Mum: Kiana
Dogs Name: Mo
Breed: Australian Shepherd
Age: 8 months old
Mo's personality: Mo is an adventurous, stick loving, ball of energy who loves to show his love by giving big sloppy kisses.
Best skill? Bang (play dead)
Favourite nickname: Mojito
Any challenges you've faced with your dog and how you've overcome it? Barking! Earplugs?? Kidding! It's a work in progress with lots of positive reinforcement.
The best moment/experience you've had with your dog? Mo discovering that the ocean isn't in fact one giant scary blue salty monster, but a wondrous playground, and occasionally a toilet...
Why do you love dogs? There won't ever be a day that I won't smile while I have a dog (particularly Mo) to come home to!
Anything else you love being about a dog mum? Knowing my lil man is secure and safe on our daily adventures in his Wolf & I Co. gear.