Posted by Wolf & I Co. on Jan 26, 2022
Dog Friendly Guide To Rainbow Beach
As you drive over the last hill and into town, get ready to wind those windows down and feel the fresh sea breeze and warm sun on your skin. With good vibes and just a sprinkling of enough going on, Rainbow Beach welcomes those with an adventurous spirit.
This popular beachside town is a haven for 4wders due to the barge connecting mainland to K'gari (Fraser Island) but it also lays claim to one of the few (and yes we mean three) dog friendly national park camping sites in Queensland, therefore making it an epic spot for dog lovers.
We'd definitely recommend hitting Rainbow Beach up with a 4wd. It will allow for so much more exploring - giving you access to the beach and the camp grounds which have a few sandy access tracks that lead to some of the better sites.
If you've never been to Rainbow (especially in the warmer months) you can expect throngs of 4wds - rigs galore, a bustling main street filled with rainbows and a highway of cars on the beach.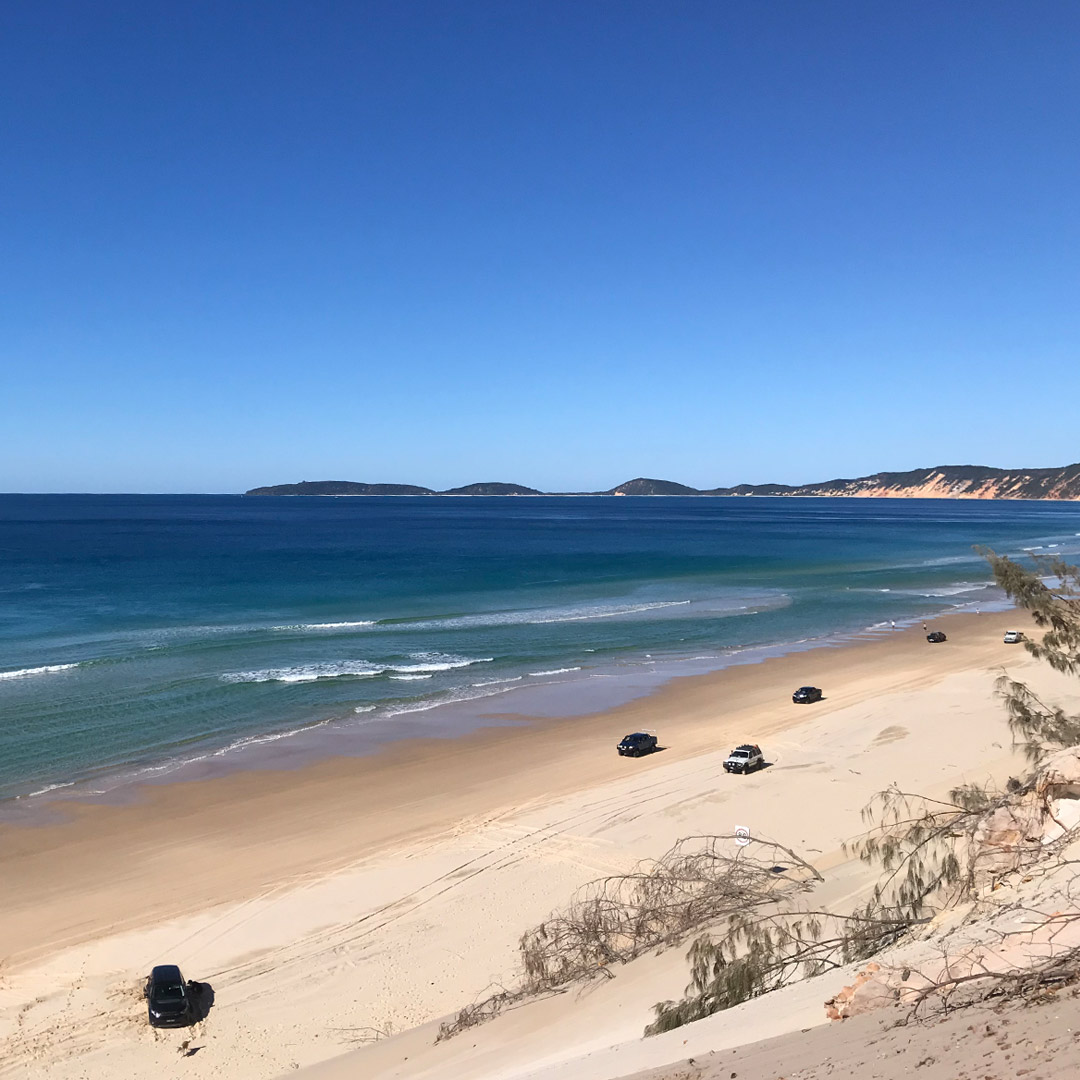 Views to Double Island Point from the top of the sand dunes.
Main Beach
The Main Beach is just epic and has so much to offer. Throw in a line, catch a wave, throw a snag on the bbq out the back of your truck and enjoy the sunshine.
The main beach access is to the right of the flags. Drop the tyre pressures down and check the tides and you're good to go.
Head right toward the famous Double Island Point and you will find the the Carlo Sand Blow, climb the sand hills to test your fitness, then run down in to the ocean to cool off.
You can't take your dog to Double Island Point and you will see signs on the beach for the exclusion zones. Worth a look if you can organise a dog sitter with a friend for a few hours as it is an amazing place. It's only a small drive down the beach and back but needs to be near low tide to get through so check the tides if considering this trip.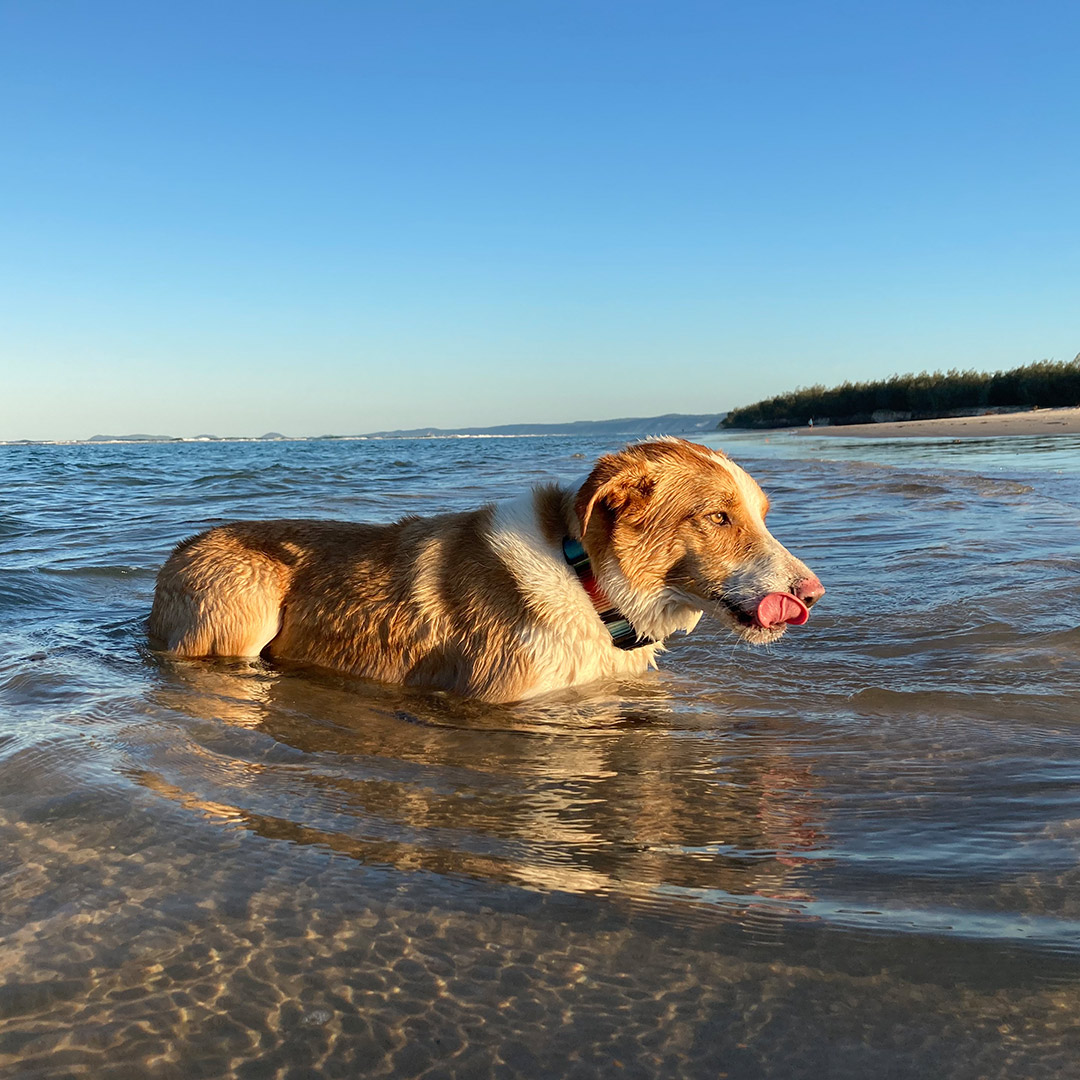 The beach is amazing and the dogs will love swimming right outside camp.
Want to escape the crowds? Head left down main beach for a little more peace and quiet. This beach runs all the way to Inskip - but make sure its near a low tide if you're keen to do this. N.B. The beach access for heading towards Inskip is further down the road and can't be accessed via the same access point at the flags due to this being the flagged patrolled section.
You definitely need to keep an eye on your dog on the beach as the trucks just keep coming. Keep them on their Wolf & I Co. dog leash but also make sure your dog has plenty of water and sunscreen as it can get hot. Set up a gazebo or car awning in summer to provide shade for your dog and family.
Eating out
It's hard to beat a fridge in the truck stocked up with a few salad sangers and a cold drink and your best buddy will be happy to hang on the beach for longer anyways but if you're not set up check out our top spots below.
The Deck @ Sea Salt
We can't even count the amount of times we've been here but when you find a shaded lawn area with water bowls for your dog, cold beer on tap and top notch food it becomes your go-to very quickly.
There's also lots of other dogs and their owners and it's nice to chat with them, find out where they're from and let the friendly dogs sniff each others butts..
Rainbow Beach Hotel
Also a dog friendly establishment with water bowls at the ready along the verandah. Not as big and as much vibes as the Deck but still a decent meal, a few frothies and a dog friendly area means its a win win.
The Rainbow Beach Surf Club
The recent reno looks the business with a new deck overlooking the epic coast - but old fido will have to sit this one out as its a no go for the pup.
Camping
Luckily for the campers out there, Rainbow Beach is a great spot to set up camp. Inskip Point has several epic camp areas both on the beach, in from the beach and on the bay (calm water). They are dog friendly and have basic amenities throughout the sites like pit toilets (no showers). Camping here is simple but for the magic of the area you're in - well worth it. Pack the fishing rods and hammock and switch off for a while. You definitely need to buy permits and book online so check it out well in advance.
If you left in a rush and forgot some things there is a good supermarket and a camping store in town to stock up if you need more supplies. There isn't much you can't get at Rainbow Beach.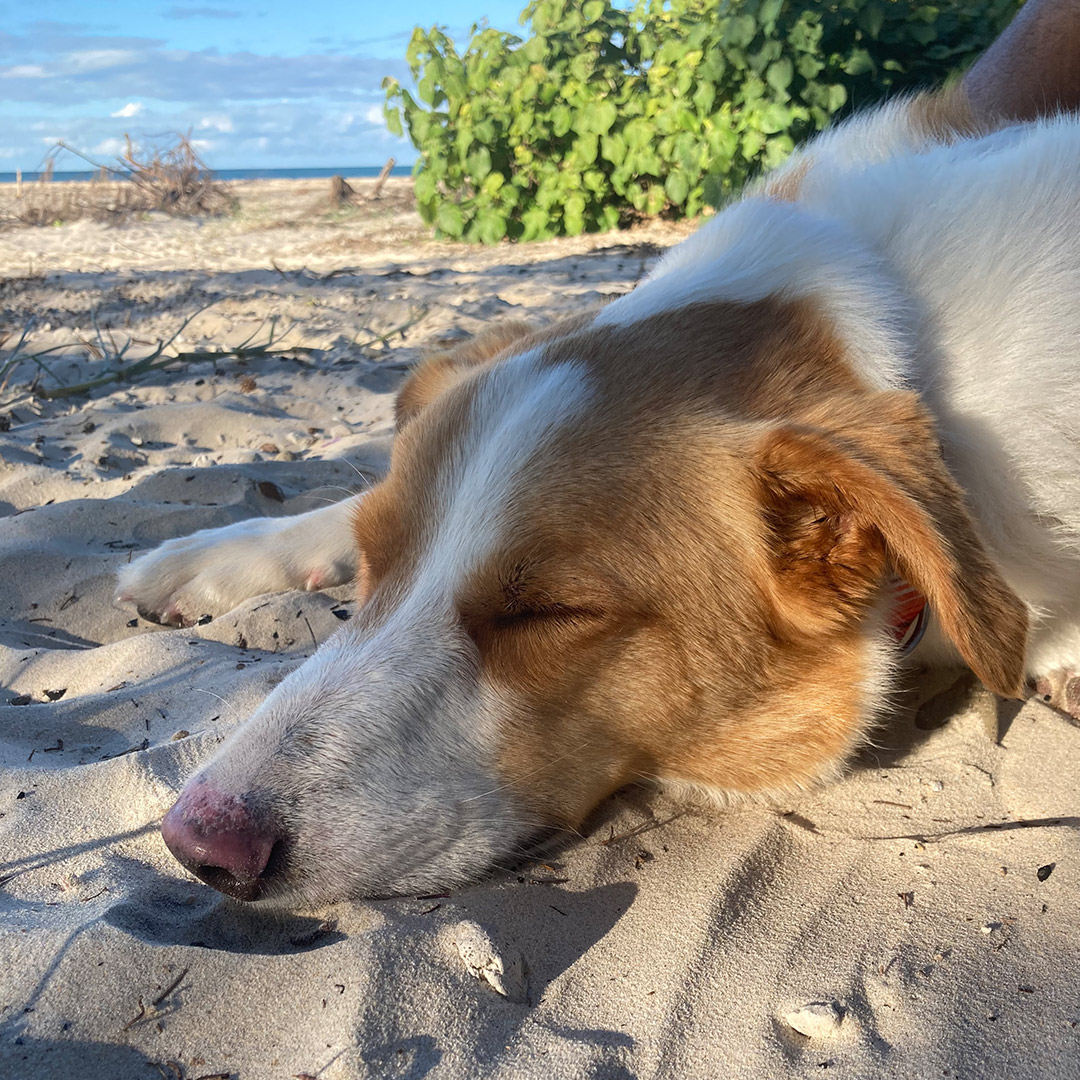 Catching some zzzz's at the Inskip Point campground after a long day at the beach.
Accommodation
If your looking to treat yourself to a roof and some walls on your stay in Rainbow, check out Stayz or AirBNB for a good range of dog friendly options in town. Maybe get a group of friends together and make it a pawty!
Getting there
About a 2 hour drive north of Noosa via Gympie on the highway north. You can also go for the hinterland scenic route through Cooroy - Kin Kin - Wolvi which is one of our favourite ways to get there. Once on the main Rainbow Beach road, the drive in is a single lane setup and has lots of windy corners and hills. Be sure to take it easy and leave some space for the other cars in front. Relax - theres no rush to get there and a lot of big 4wds towing even bigger vans use this road so it can get hectic.
Worth a look on the way
Dog itching for a break? Check out Cooloola Berries or pull in to a hinterland town for lunch or a coffee. Kin Kin General Store has a great range of home made food and drinks and there is a sports ground across the road behind the local Pub to throw a ball for your pup too! Kia Ora has a little brew pub worth a look if you are in the area.
If you're still frothing for Adventure and even more 4wding, try your luck in the nearby State Forest for a little deer spotting. Wild Brumbies also frequent the area so keep ya eyes peeled for these majestic animals.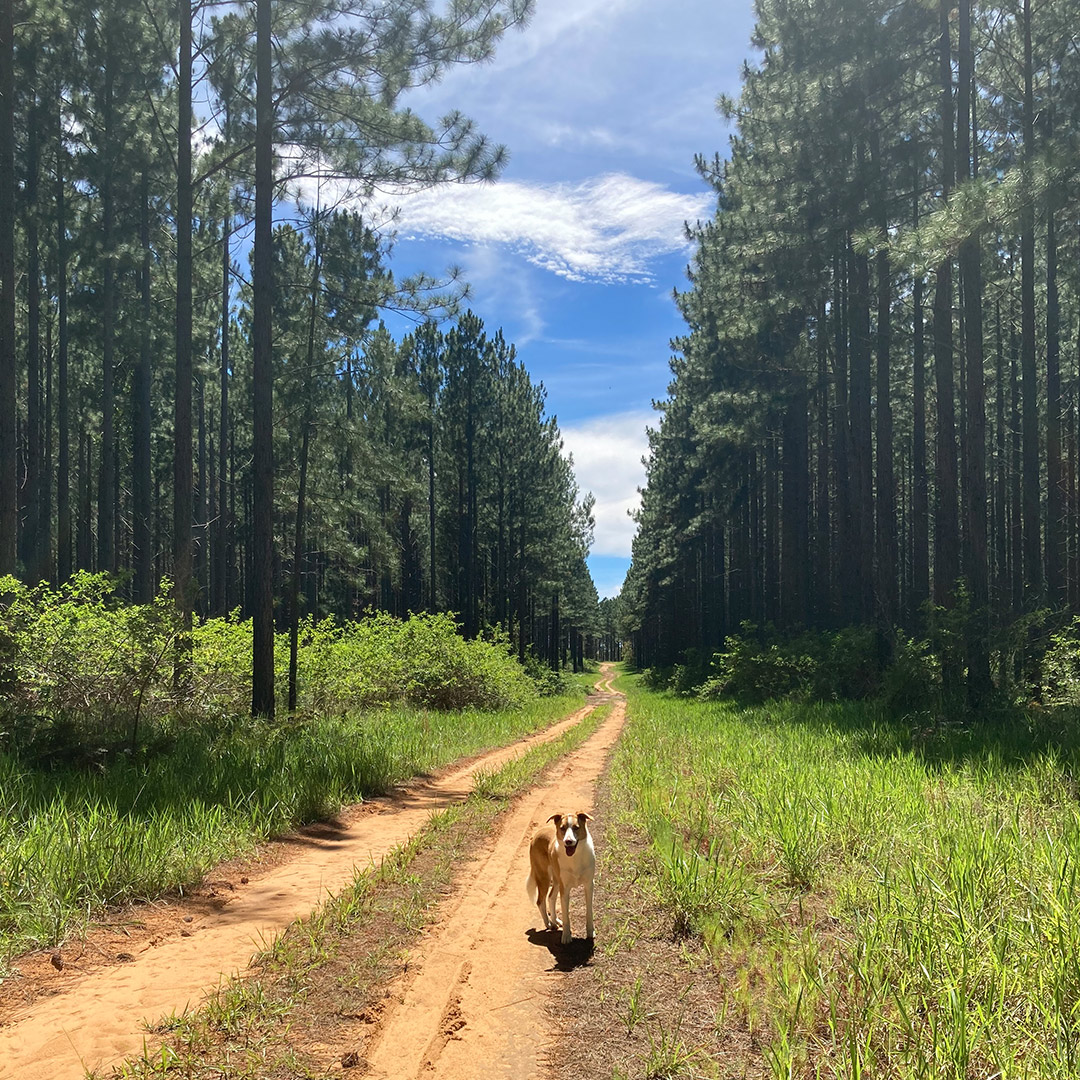 Exploring some 4wd tracks in the state forest.
All in all
We give Rainbow Beach a big thumbs up. We've never had a bad trip up there. Always something to do and when the weather is a pearler it really is a special place. Remember to take out what you brought in and leave this piece of paradise in better condition for the next person or pup to enjoy!
Best time to go
Year round - check the local weather and avoid the winds if possible. A sunny day with a little wind is a perfect scenario up there and will allow you to see down to Double Island Point and up to K'gari (Fraser Island).
Playing ball at Inskip Point with views to Fraser Island.