Posted by Wolf & I Co. on Feb 17, 2022
If you're dreaming of an epic escape to the country and your idea of camping is green rolling hills, a flowing creek with a crackling fire and your dog by your side then it's time to visit Kenilworth - the idyllic camping capital of the Sunshine Coast.
There are so many top camp sites to choose from in this region and the best part is the majority of them allow dogs!
The Mary River offers the perfect playground for your camp in Kenilworth. Whether it be kayak, tubing, swimming, rock hopping or exploring the green hills, if you don't want to get your feet wet, your dog will!
And even better still, these cracker spots allow the best of both worlds with the option to be self sufficient or being able to duck into town for a cafe or meal which is only a few minutes away from all camp grounds.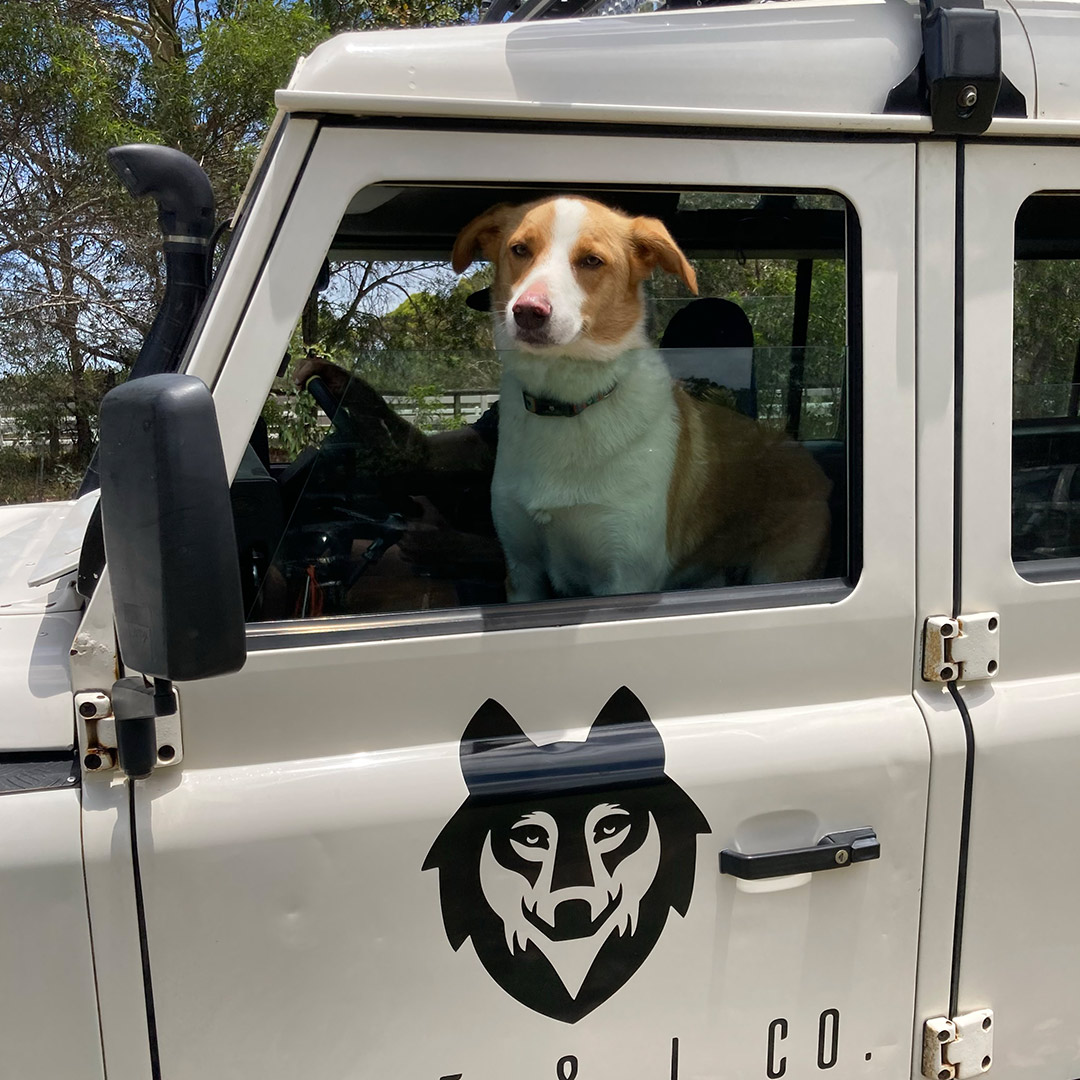 Team Wolf always ready for a camping adventure!
Heres our top six picks - in no particular order:
Kenilworth Camping: You'll wake to the sounds of mooing cows at Kenilworth Camping which is a working dairy farm. The camp sites are mostly situated on the southern bank of the river with views across to Kenilworth Bluff. Once afternoon hits, campers tend to enjoy drifting down the epic little stream with a drink or two. Bring your own floating device and you're good to join in! Further downstream the river deepens for swimming and kayaking, if you're keen you can also try your luck at fishing. It may be worth your while to book ahead as it's a busy spot year round. You can book online and pay at the gate. Porta-loo toilets are available throughout the site and fires are allowed - buy a bag of wood at the gate for $15. Get it crackling, get the dog to bed and put your feet up and enjoy some amazing stargazing!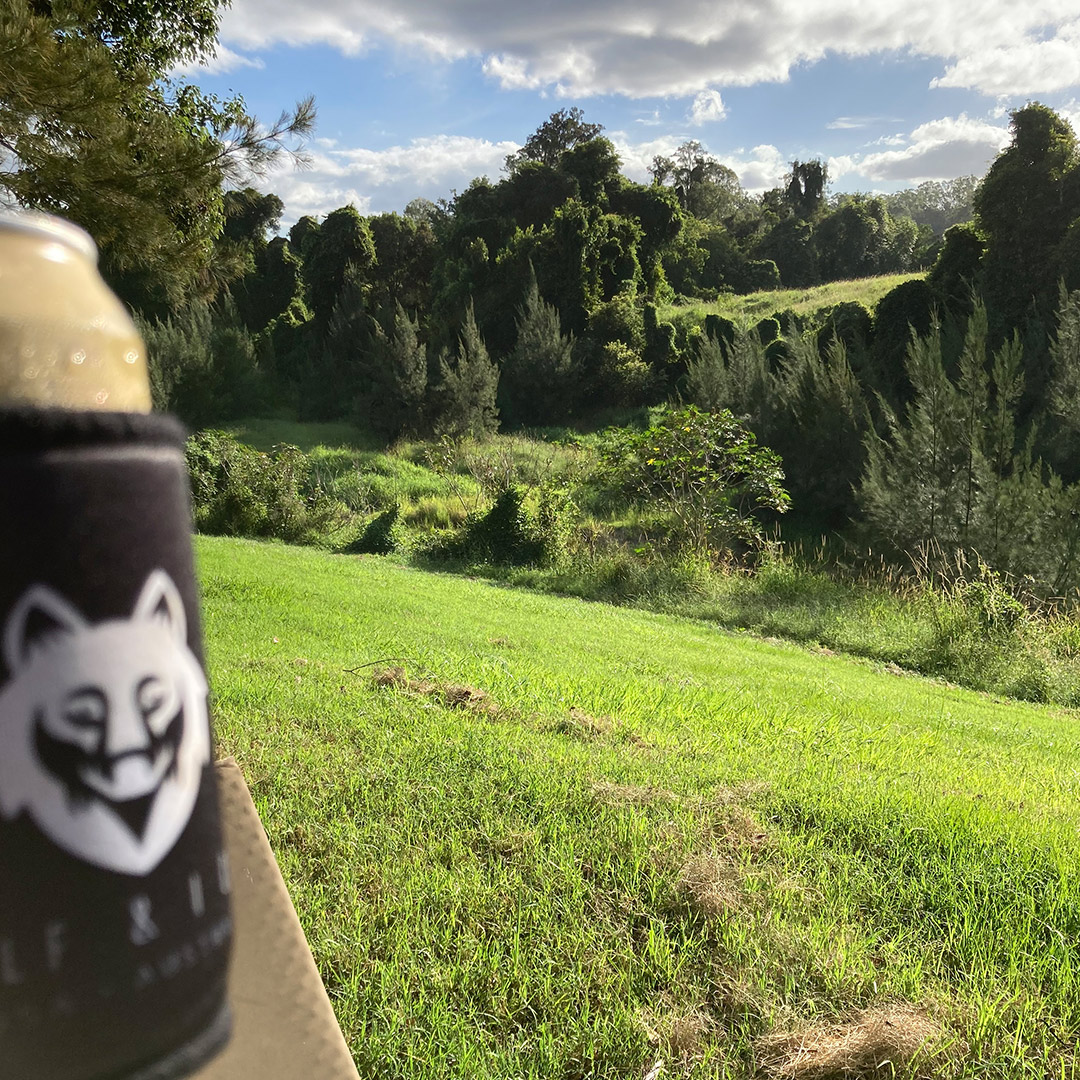 Camp sites at Kenilworth Camping
Kenilworth Homestead: On weekends, school and public holidays, camping is available for one and for all. This spacious, well maintained property has a tonne of sites (& cabin accommodation) and you're free to choose a spot to pitch the tent and enjoy the camping experience. Your dog will love exploring by the river and there a few holes here to have a dip if you're as mad as us! Hot tip! We definitely suggest keeping away from the track as it throws a lot of dust into camp. The Homestead is super close to town and when its not a long weekend you can find a secluded camp spot to chill out and contemplate your questionable decisions in life.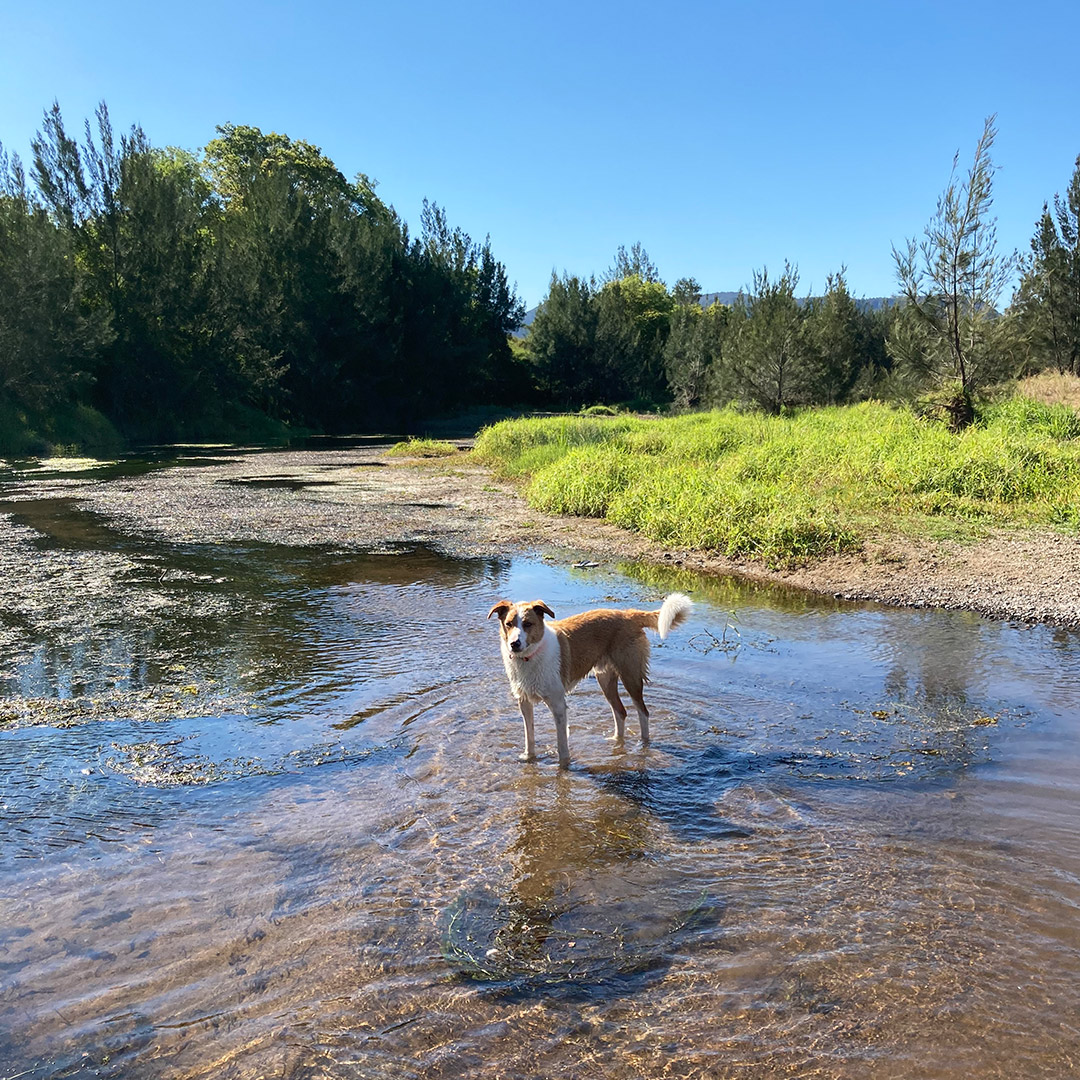 Swimming in the creek at Kenilworth Homestead
Bluff Creek: This legendary camp locale was the first of the camp grounds we ever stayed at with our then puppy Byron. Camp sites are dotted along a small creek that runs into the Mary (at the back of the property) and the site is directly in front of the Bluff which makes for a stunning backdrop.There are good facilities including showers and the grounds have plenty of space to find a piece of your own paradise. Besides our pup eating our toothbrushes and curling up in our camp chairs wet as a whistle, it was a really great first camping experience with our new pup. This camp site is the furthest away from town but still only a ten minute trip if you need to and often has a courtesy bus to pick you up if you wanted to go into town for din dins and tin tins.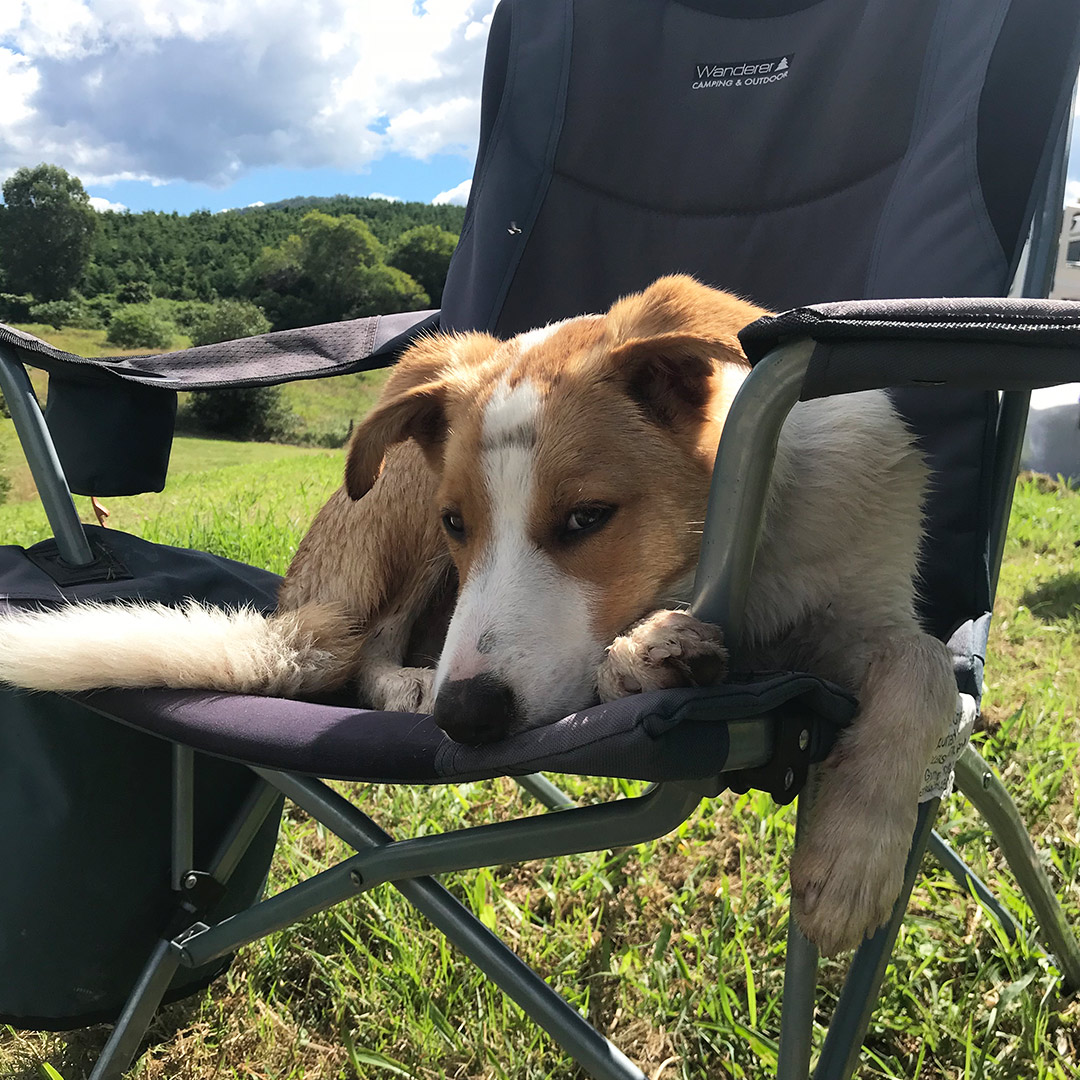 When your pup steals your camp chair... Kenilworth Bluff
Parklands Camping: This lush green camp site is surrounded by working cattle paddocks and is situated along the northern banks of the Mary River. Sites are dotted along the banks and there are generous grassy sites as well. Your dog is going to love the big swimming hole here which is great in summer for the humans and year round for the dogs. Parklands is run by a friendly local family always up for a chat. To book in we simply phone for availability and the fee ($15pp cash) is collected at your site. Wait for the sun to go down for stunning sunsets and enjoy breathing in the country air. We love that open fires are permitted and if you've had a big day, hot showers are $2 for 3 minutes and plenty of porta-loos around the grounds will keep the flies away. All-in-all Parklands is the perfect spot to unwind and one of our faves!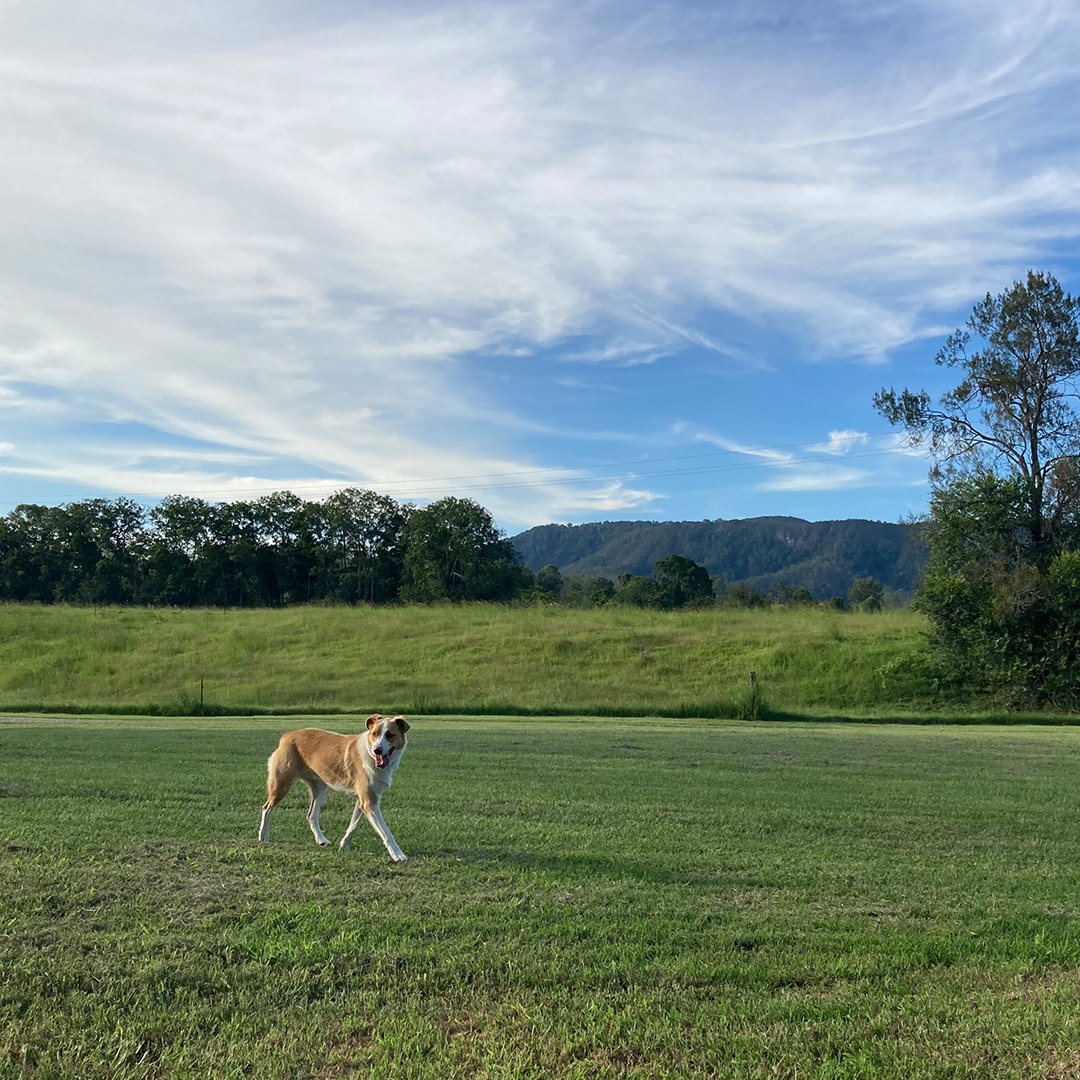 Taking advantage of the wide open space at Parklands Camping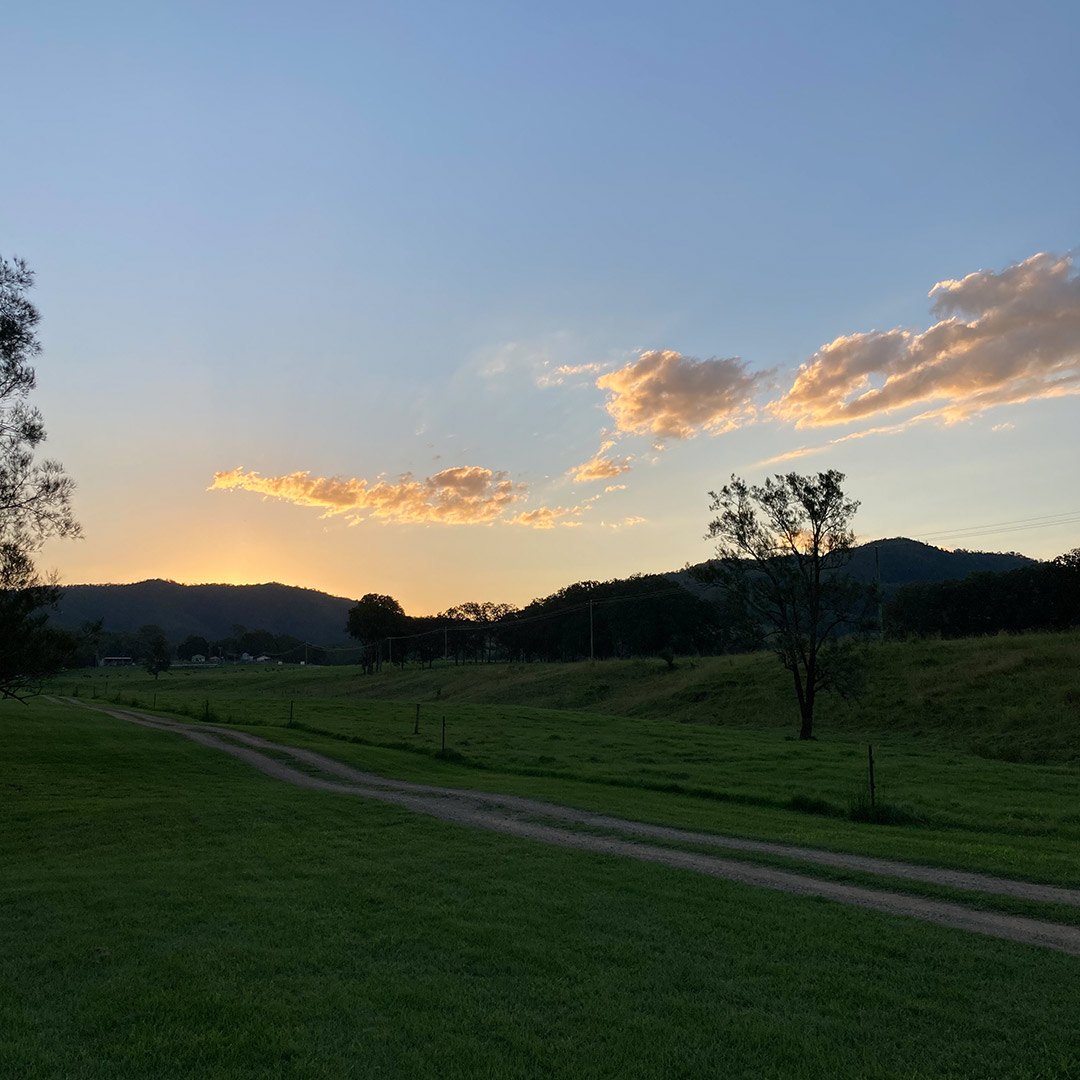 Big sky country at Parklands Camping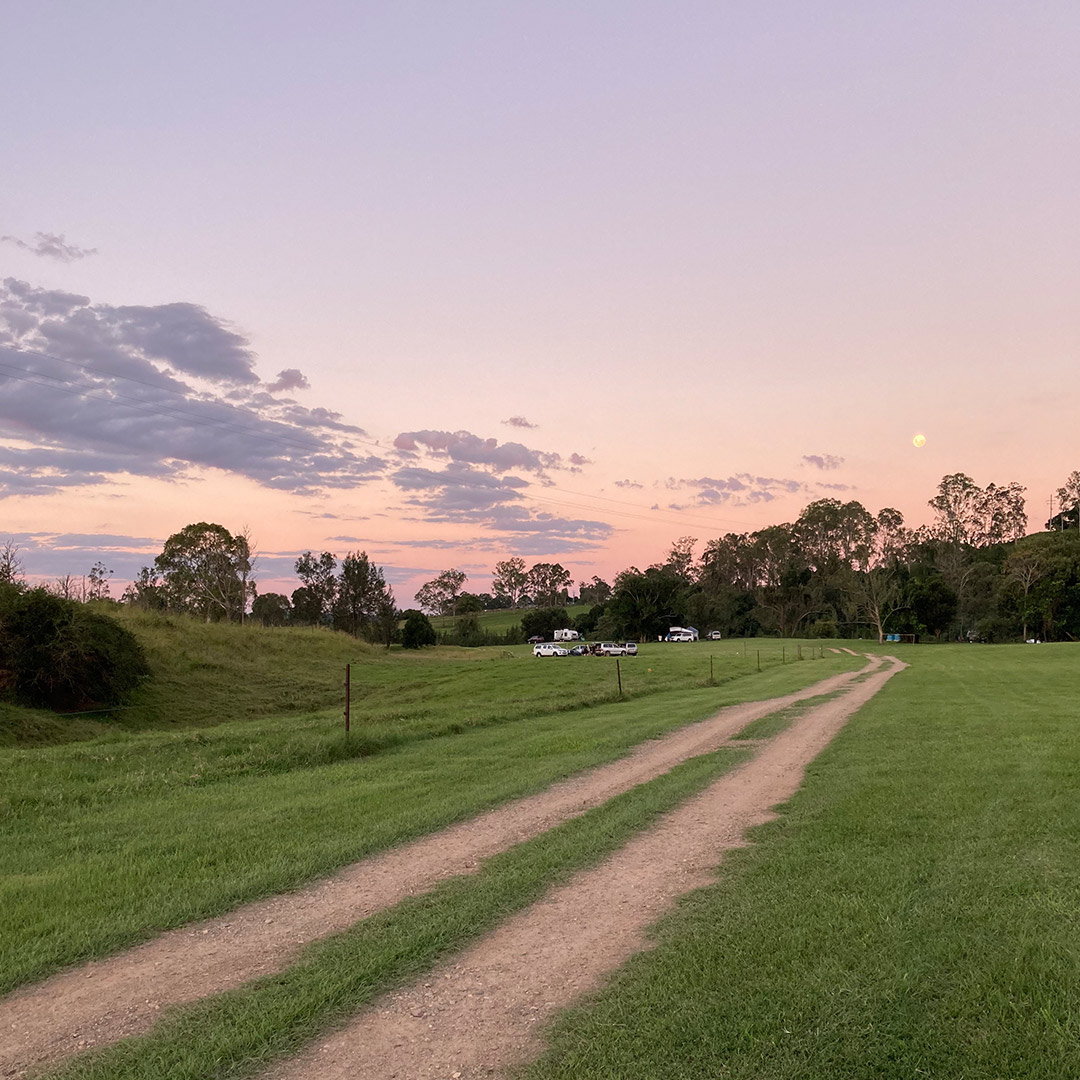 Well maintained camp sites and stunning skies at Parklands Camping
Kenilworth Showgrounds: Drive into the Showgrounds and you'll see that this spot is a different kettle of fish. Located in the centre of town it attracts the van lifers, grey nomads and the like and is always busy. You can score a more private tent site along the tree line adjacent to the river though so check if it's available first up! This little area is also right on a grassy track to the river so if you're keen to explore, this is a top spot to be. The river here is wider and more freely flowing than the other camp grounds which is something to consider. It's also walking distance to the pub and legendary Kenilworth Bakery so if you're heading there for dinner or breaky and you have a roof top tent, you don't need to drive anywhere - just set up and stay put. The Showgrounds have good facilities, flushing toilets and showers. If you're after a wood fire they sell wood and you must have fires off the ground. The famous Kenilworth Cheese Factory is across the road and the epic Kenilworth Bakery just 100m up the Main Street with crazy good pies and enough naughty doughnuts to make you re-consider that expired gym membership.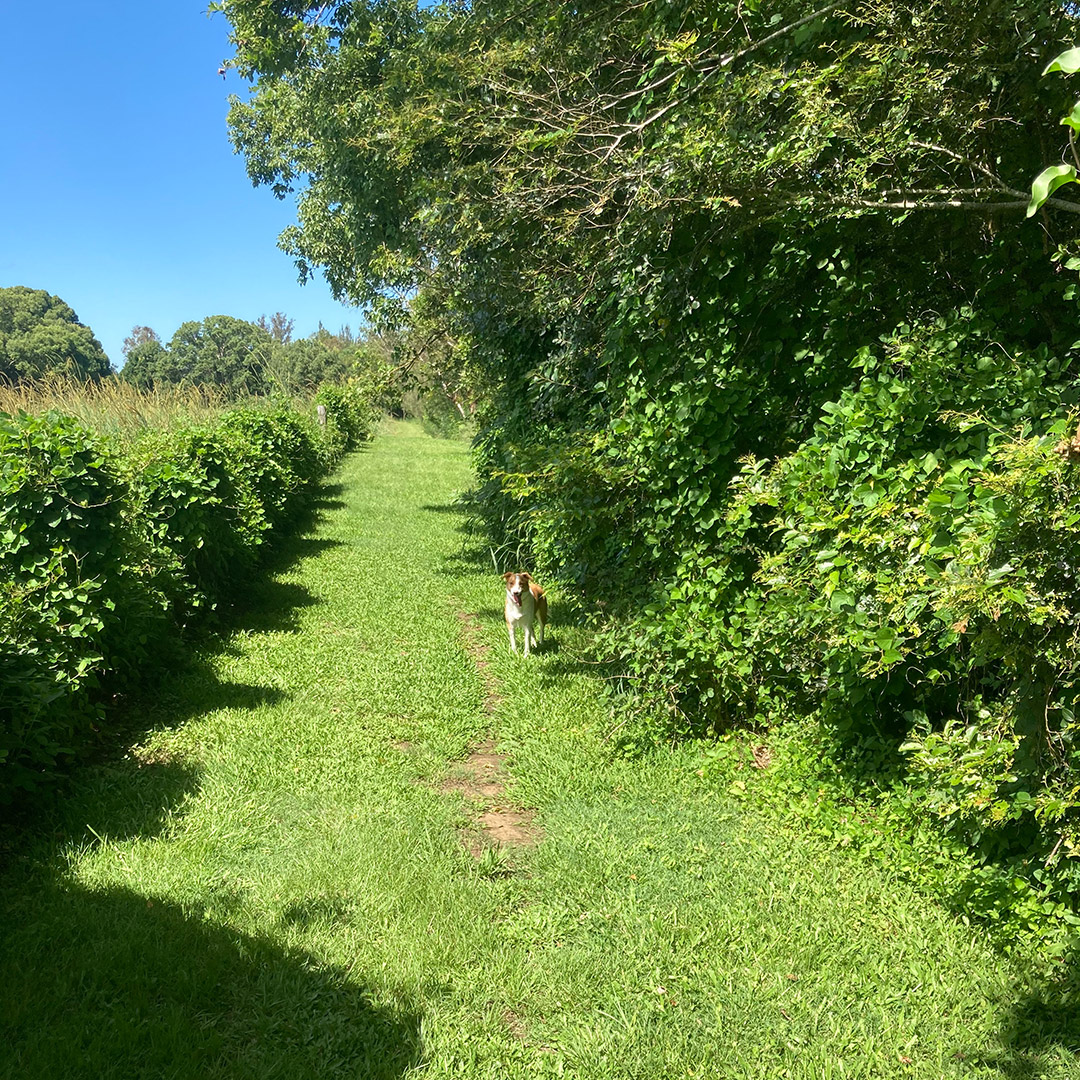 The secret track to the river at Kenilworth Showgrounds
Kenilworth Rural Camping: We're sure you'll love this newer Hip Camp on a huge grassy paddock right in town. The owners have kept the sites down to just five and it feels like you have the whole place to yourself. There is a resident cow, Daisy who roams the paddocks which just adds to the experience of staying here. Fire rings are provided and it's dog friendly. Just keep in mind you need to be self sufficient at this place and have your own facilities. It's about 100m to the Mary River, walk down and enjoy a swim or the sunset and take in the awesome views up and down river.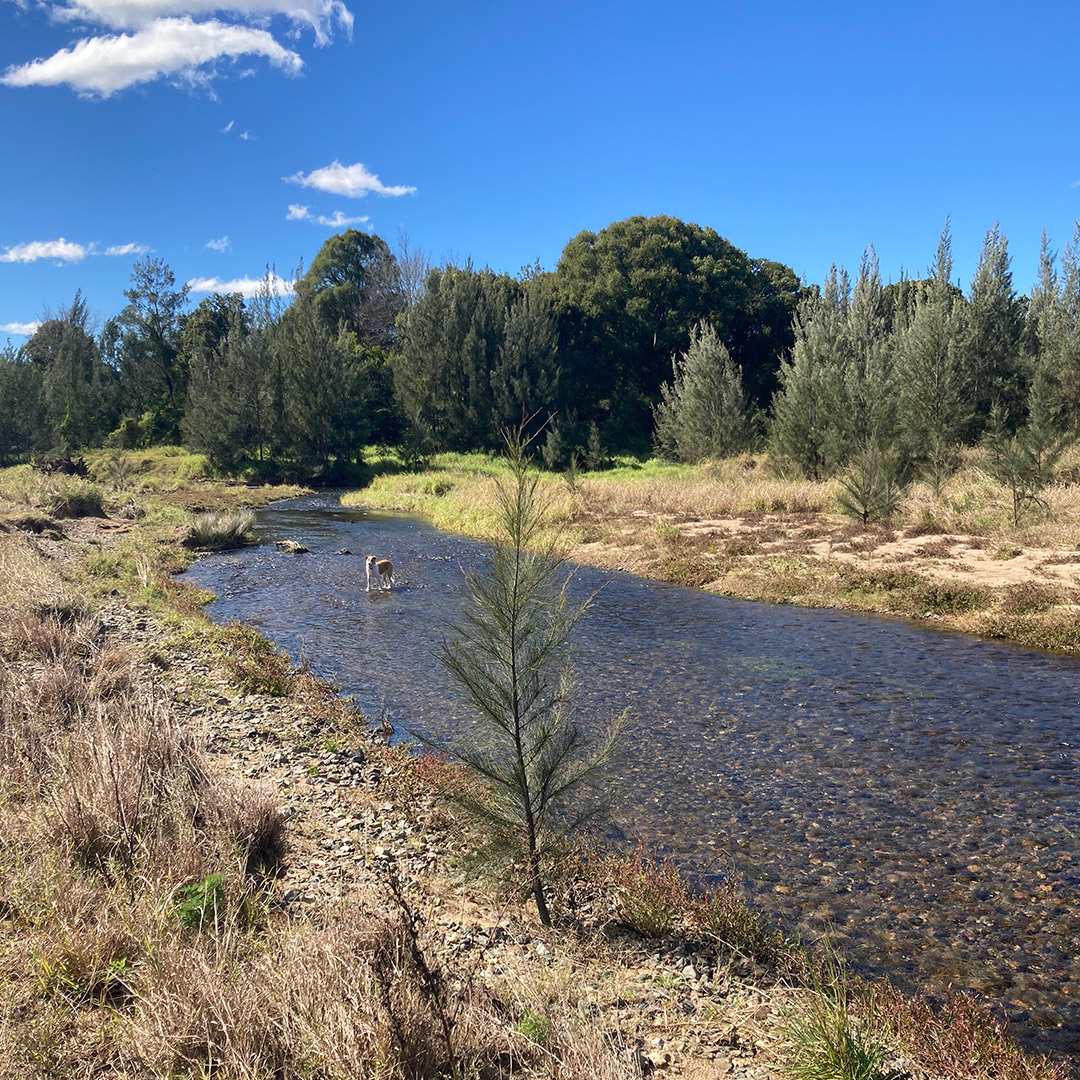 The Mary River at Kenilworth Showgrounds and Kenilworth Rural Camping - great for a dip!
So there you have it! Now get the truck packed and get into Kenilworth this weekend with your pup for what we are sure won't be your last time. Oh and be sure to tell them Byron sent you!
Remember to travel safe and buckle up your best buddy with our Co-Pilot Seat Belt, available in our Epic Travel Packs for everything you need on your next adventure.
As always we need to keep these epic spots available for dogs and dog owners. Keep your dog on their Wolf & I Co. leash if need be. Happy camping!