Posted by Wolf & I Co. on Jan 05, 2022
Visiting Agnes Water has been on our 'to do list' for quite sometime, mainly due to its dog friendly beaches and camping, so when we had a window to go we thought bugger it, let's head off on an adventure before Christmas and check this area out!
Agnes Water has been trending lately due to the fact it's still largely untouched by development, its laid back, barefoot vibes and of course its natural beauty.
If you're not familiar with the area, Agnes Water is the surfing town and Seventeen Seventy is a few mins drive to the north and sits on an inlet of Bustard Bay. If you visit one you will likely visit the other. Both are sleepy little townships with holiday accommodation and stores for the essentials.
Pet friendly accommodation was our first search when researching the area. To our surprise there were quite a few options ranging from AirBNBs and hotels to camping and cabins. We were well overdue to 'unplug' so we thought it would be a good idea to reconnect with nature and rough it in some very nice camping spots that surround Agnes Water.
We set up camp at "The Summit" which is of course dog friendly and it included amenities (toilet, shower, camp kitchen) on site which is always a plus. Facilities were very clean and a shower very welcome after a full day of sun, salt and sand. Located just a few minutes from the main drag of Agnes this was a convenient location and wasn't crowded, although hot tip, if it's busy and you're pitching a tent it may be a bit tough to find a flat spot as it's on a hill.
After we got our bearings we decided to check out the beaches and work out where our little lunatic BC could go. The main beach in town was dog friendly and as long as you weren't in the flag area you pretty much had the whole beach to explore. There are a few access areas to the north of the main beach access which were less crowded and easier to find a park and manage with a dog.
Dog Friendly Main Beach at Agnes Water
If you're up early, you'll get some good little waves on this beach if you are into surfing. It's also perfect for beginners if you're thinking of giving surfing a go. We'd definitely recommend taking a long board or short fat board if heading here - waves are pretty full and unless its pumping the point will still provide good surf conditions to have fun with on the low tide.
Another beach tucked back in a rocky cove to the south of main beach and away from the crowds is the picturesque and dog friendly Workmans Beach. Workmans Beach used to be home to a dog friendly camp ground but it was permanently closed. However, the shaded picnic area with roaring cicadas, toilet and cold shower was a great spot for lunch after spending the day down at the beach. It's better swimming here on the mid to high tide so keep that in mind if wanting to get wet.
Workmans Beach, Agnes Water
Further south are Chinamans and Springs Beaches, popular with the local surfers and fun to explore. Something to be aware of if you are travelling with dogs though, turtle nesting season is from November to April each year and dogs are not allowed to go frolicking on either Springs or Chinamans Beaches. If you're up for a surf at Springs Beach plan your trip around the exclusion times. We will have to come back when the turtles have done their thing.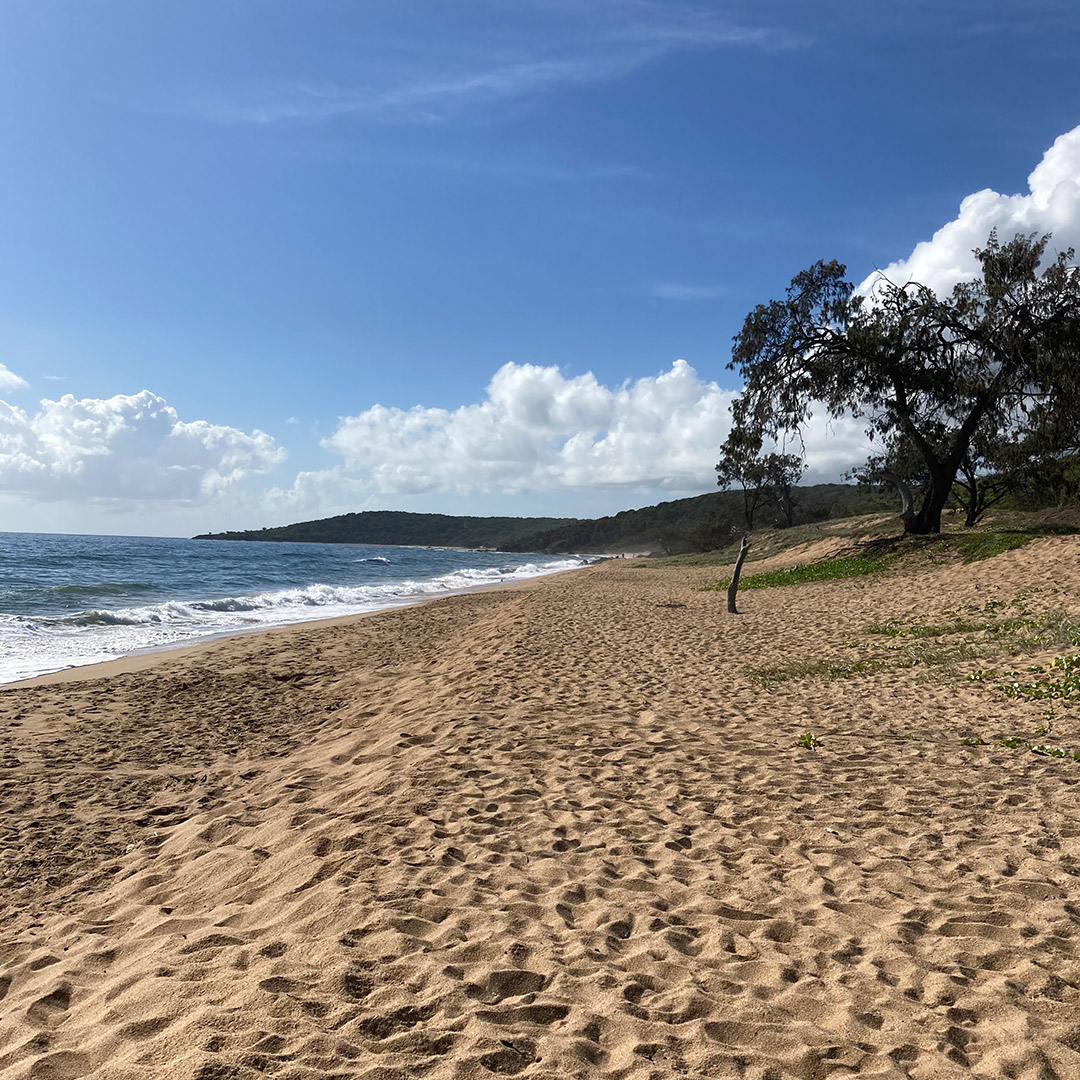 Chinamans Beach, Agnes Water
We had to check 1770 out, so we drove up with the idea of having lunch somewhere. We found a large dog friendly shaded park parallel to the bay with plenty of picnic areas and bbqs so that was as good a spot as any to make a sandwich and have a beer in the heat of the day.
Seventeen Seventy was definitely a sleepy little fishing village. You'll notice plenty of nods to Captain Cook in the area with facts placed around the picnic shelters. There was a lookout up past the houses where you could see north to Eurimbula National Park and down to Agnes Water to the south. Unfortunately it was too hot to hang around during our trip and not dog friendly as is the case with many 'people oriented' places these days.
After two nights at the Summit, we packed up and spent another two nights at the 1770 Eco Camp. Although not in 1770 at all, this too was on the main road leading into Agnes and only a minute away from our previous spot. This camp was more popular with families and seemed to have a lot more tent sites than the previous accommodation. It also featured spacious camping sites, fire pits and good amenities.
We were also keen to hit up the Discovery trail so we headed off early one morning and hiked around the headland with BC in tow. It was a dirt track that led to a lookout and also along to Workmans Beach if you wanted to. We saw dolphins and eagles and it was a great vantage point to check the surf.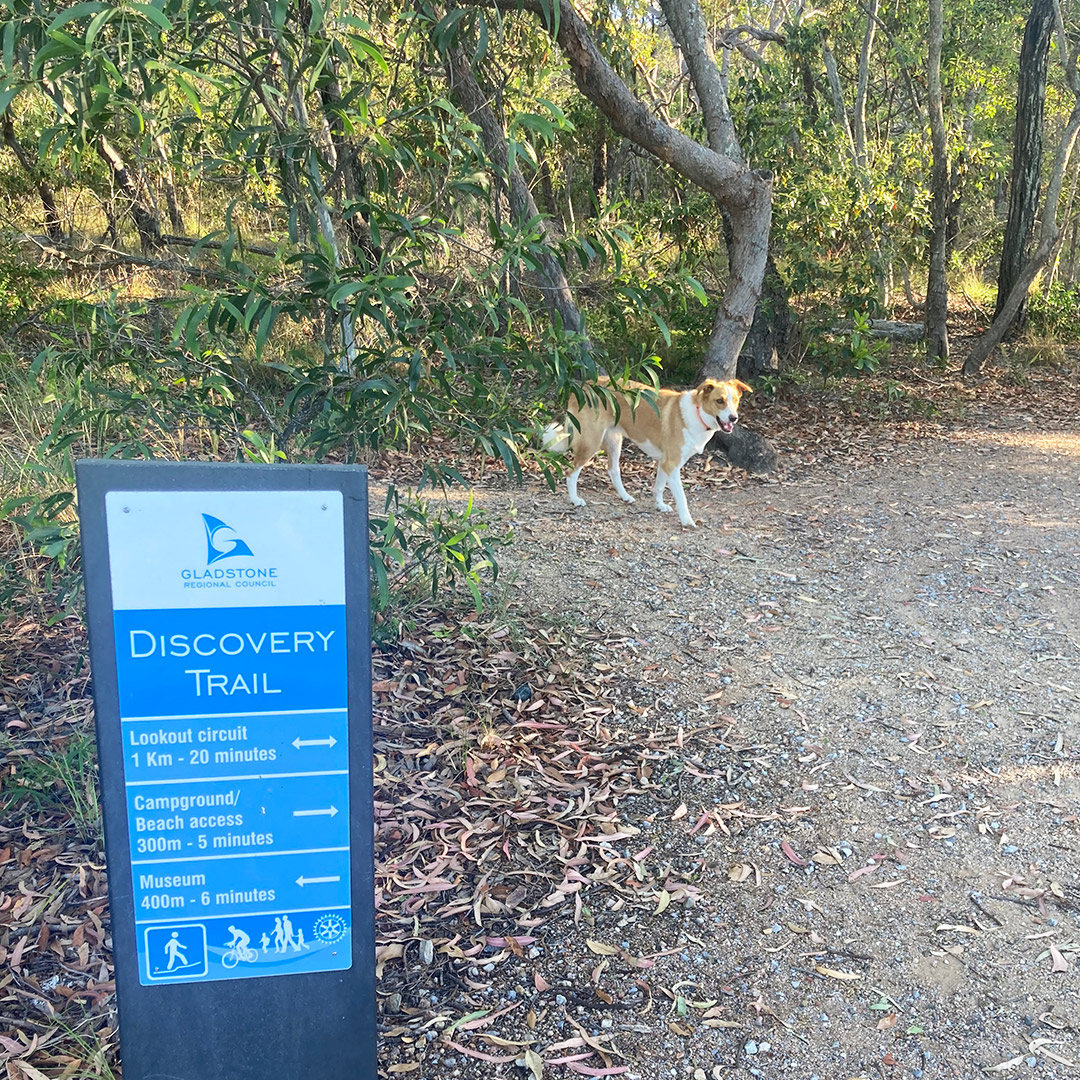 The start of the dog friendly Discovery Trail, Agnes Water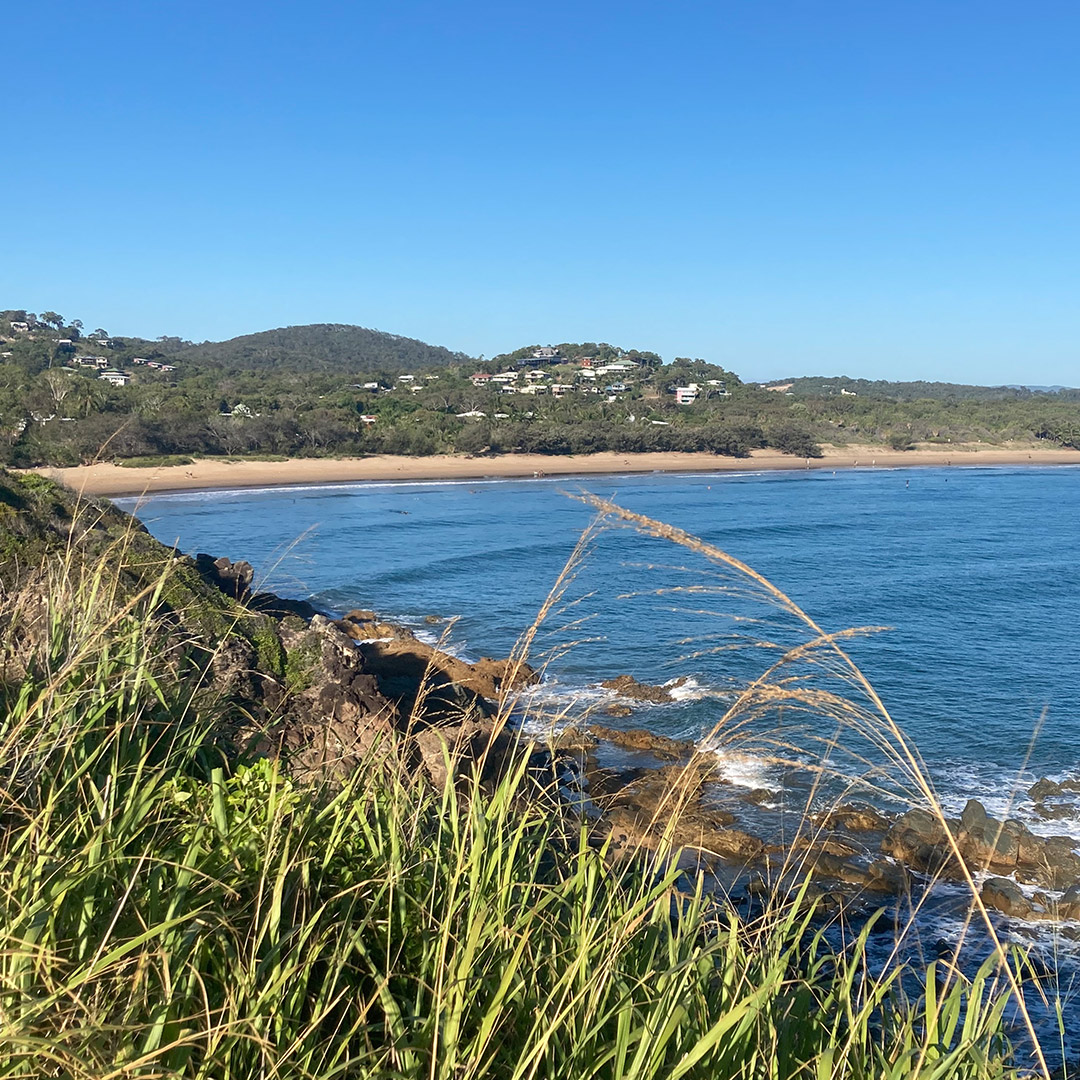 Discovery Trail Lookout with view toward Agnes Water Main Beach
If you're keen to venture further afield and have a 4x4, there are plenty of tracks and National Parks to explore in the region. To the north is Eurimbula National Park and to the south is Flat Rock, Middle Rock and Wreck Rock within Deepwater National Park.
The sand gets really soft through these tracks so a well kitted out 4x4 is a must and ensure you go with another car or have sufficient recovery gear to get out of a sand bog if you need to.
Dining options in the region seem fairly limited but we did spot the local Fish & Chip shop, the Tavern and a Pizzeria. There is a local Foodworks, a camping store as well as the servo for all your fuel and boat needs. If gelato is your thing then you're in luck - looked to be a great little gelato store just opposite the servo and always had people lining up which is a good sign.
All-in-all Agnes Water was a quiet little holiday town without the over populated establishments that seem to define most surf towns these days. If you're looking to unwind - surf, walk the dog, camp and chill then this is a must do for you.
Agnes Water is about four and a half hours drive from Noosa but keep in mind there will be a few stops for your dog, fuel etc. If you're looking to head off on a road trip like ours, make sure your dog travels safe with a secure dog seatbelt and harness. A Travel Pack includes everything your dog will need for your journey.
And remember it does get super hot in North Queensland over summer so bring plenty of water and sunscreen - especially for your dog!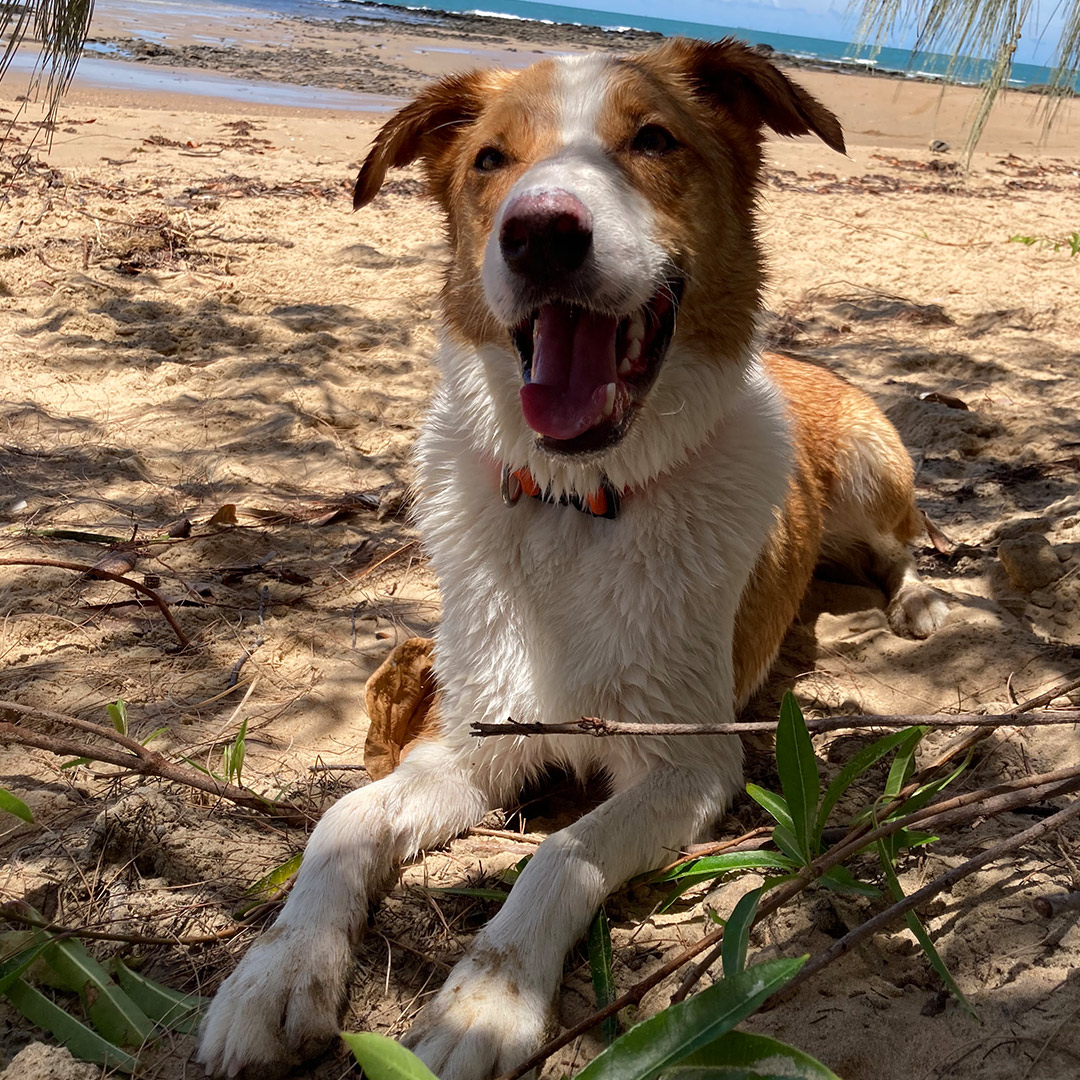 One happy dog!